QuickLog time slot system

Our software would assign a date to every single incoming hauler vehicles, so everybody ranks.

The timeslot system may also be uploaded with Excel input

so You may demand an EKÁER number with a single click.

Our Software

cooperates with the offical NAV EKÁER system in perfect sync, so you may receive an EKÁER number as well during fixing an appointment.

You may upload inputs

without requesting an EKÁER number it is beneficial because You would know exactly which goods are due to arrive and when.
Get knowledge
of our QuickLog time slot system software!
In summary this is an online time slot management system for lorries. Freigthers can register their hauler vehicles on an online surface through our system.
Admins' surface with calendar
You may check out your own calendar and time reservations on the Admins' surface. You can also: Cancel, modify, export and give informations regarding to a particular delivery.
Time interval date registration
On the Suppliers' surface our system would offer different dates. Suppliers may choose one of them to reserve a particular unloading date.
Time slot management without EKÁER number
In our Software You have the possibility to reserve a date without claiming an EKÁER number. In this version the online time slot manager takes the lead.
Time slot management with EKÁER number
Our Software is in sync with the NAV EKÁER software, which means that at the same time with the time registration an EKÁER number can also be made.
Benefits of the software


Using our Software results many advantages.
Currently 3 versions operate.
We can implement any parameters.
Simple installation
User friendly surface
EKÁER number storage
Documents storage
Fully fledged trucksarrival system
Making an EKÁER number
Time registration at the same time
Providing the purchase order number is sufficient
You supplier shall make it
Monitoring incorrect plate numbers
Warning about errors (at longest 2 weeks ahead)
Data upload via e-mail (from an Excel chart)
Direct communication with the NAV server
Unlimited opportunities for plate number modification
Either for inbound or outbound
Data upload from Excel
Data upload opportunity via e-mail
More accurate account
Tons of plus informations
Quicker time registration
EKÁER number storage (without requiring one)
Infinite possibilities
hours long customer service
Comments
about our software.
"Timeslot software is very useful, we can save a lot of time. Our suppliers are also very pleased with it."
Kovács Géza
Warehouse manager
"We don't pay penalty anymore since we use the timeslot system. Our drivers are very calm."
Tóth Béla
Warehouse leader
"The arrival of the raw materials is very transparent, so we can easily calculate with it in the production."
Szabó Zsuzsanna
Logistic manager
---
QuickLog
time slow system
More languages
Our Software may be used in different languages, so your suppliers can use it easily. It is translatable to any languages.
Dynamic
Our Software may be ordered without the time slot management function. We can implement any changes according to your needs.
Skype
Our associate is available on Skype contact on weekdays. On the spot coaching. Immediate troubleshooting in 4 hours.
Recheck
Regular daily monitoring. (I.e.: goods arrived without EKÁER number, carried items.) Assesment for check results.
Reports
Running reports automatically, then sending them in e-mail attachments. Such as sending the daily agenda to the porter's lodge via e-mail.
Time saving
Output measured in standard time. Termination of performance loss. Precise schedule.
To be filled data
An associate of the freighter company - which delivers to your firm - registers their lorry to the system.
Message board
Convenient flow of the information. Highlighting important messages inside the system. Forum-like comments.
Easy to use
By providing some basic input the delivery shall receive unloading date and EKÁER number as well!
Chat
You can get in touch with your colleagues and freighters with the aim of this chat application.
Document upload
Unrestricted amount of documentations can be uploaded to a particular time slot reservation for either freighters or administrators.
More time slot
Our system can run more time slots simultaneously. The reservations of the different docking stations are visible at the same time but separately.
This is how it works
Detailed guide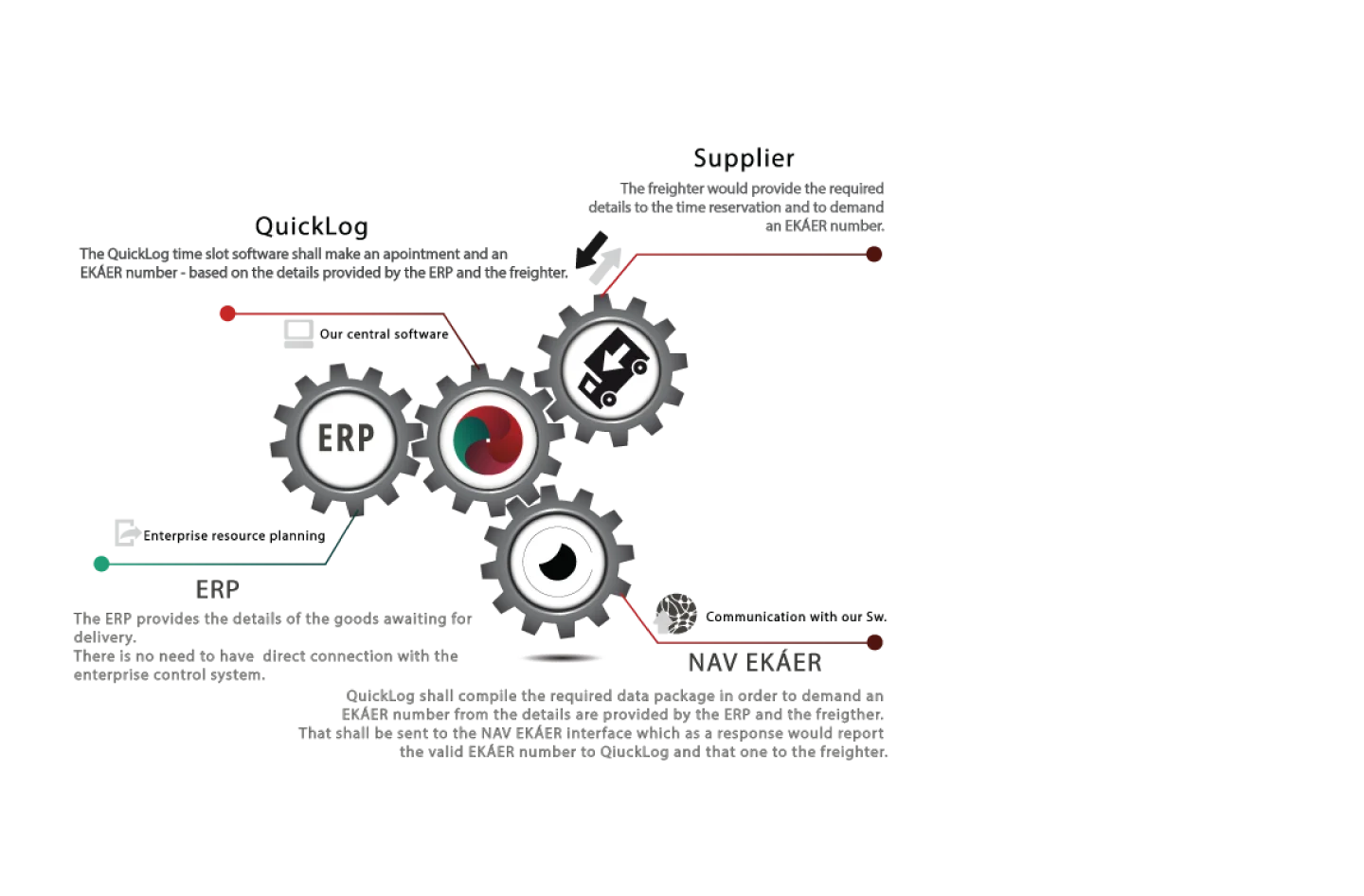 01
Beginning
The QuickLog trucksarrival system software completely unburdens you from the administrational job that the EKÁER number registrations involves. Our Software is compatible with any ERP systems as it can receive input in XLS format. These inputs can be the list of raw materials or goods for either inbound or outbound, which contains the correct data (Such as: purchase order number, customer's details, product's details), which must be reported to the Bureau of Internal Revenue. Supplier needs only one identifier (I.e.: purhase order number) in order to be able to register his or her lorry to your firm after logging in to the system.
02
Registration
There are two ways for registration. One of them is when You only claim an EKÁER number but will not require an exact date for unloading or loading. Then You should provide the list with the identifiers of the goods to be delivered (I.e.: purchase order number), which we shall transmit to the Bureau of Internal Revenue. The other possibility is when claiming an EKÁER number happens along with time registration. In that case - depending on the workload of the warehouse - the Software will offer the available dates in which the freighter can choose one.
03
Finish
Following registration a datasheet belongs to every single deliveries, in which You can find - among the others - the date of loading or unloading, start and finish of that and the EKÁER numbers which belong to every single productlines. To this point the Software offered solution to the 80% of the burdens in connection with EKÁER administration. The additional 20% determines closing down EKÁER numbers, which is also a mandatory action in order to prevent penalty. The Software is able handle the list of the identifiers (i.e.: purchase order number) of the goods were received to the ERP system on a particular day in XLS format. Based on that list the system shall close down the EKÁER number automatically.That is the way to gain 100% relief.